Alternating Pressure Wheelchair Cushion
Alternating Air Wheelchair Cushion and Pump System – Chair-Air™ Model 9700CAF 

Chair-Air™ alternating air wheelchair cushion has four individual bladders that alternate to provide the patient a superior pressure redistribution seating surface while the unique molded design, with a slight abductor pommel, stabilizes the hips and keeps the patient in proper mid-line alignment. The zippered non-skid, stretch-knit cover is anti-microbial and fire-retardant. The Chair-Air™ 9700CAF includes the Chair-Air™ 9701 alternating pump. The Chair-Air™ is utilized in the prevention and treatment of pressure ulcers.

Supports up to 250 lbs.
Portable AC/DC Alternating Pump
The portable Chair-Air™ AC/DC Pump allows your patient to be totally mobile. The rechargeable lithium-ion battery backup keeps the system operating up to 9 hours per charge, based on the patient's weight.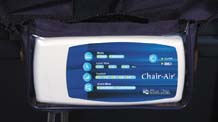 | | |
| --- | --- |
| MODEL 9700CAF | Chair-Air™- Air Wheelchair Cushion & Pump System |
| Dimensions: | 18″ x 16 " x 3″ |
| Weight: | 3 lbs. |
| Air Cells: | 4 – 2.5 " sacs |
| Cover: | Zippered low shear stretch-knit with non-skid bottom. Cover is anti-microbial and meets California Technical Bulletin #117 for fire retardancy |
| | |
| --- | --- |
| MODEL 9702 | Chair-Air™ – Air Wheelchair Cushion Only |
| Dimensions: | 18″ x 16 " x 3″ |
| Weight: | 3 lbs. |
| Air Cells: | 4 – 2.5 " sacs |
| Cover: | Zippered low shear stretch-knit with a non-skid bottom. The cover is anti-microbial and meets California Technical Bulletin #117 for fire retardancy |
MODEL 9701

Chair-Air™ – Pump only For use with Recliner Geri-Chair Air Mattress

Dimensions:

14.5″L x 5″W x 12.5″H / 25cm x 25cm x 5.7cm

Weight:

1.6 lbs. / 1.0 kg. (battery and adapter included)

Power Source :

A/C 117V/60hz , D/C 12V amp/hr

Listings:

Cycle Time:

10, 15, 20 Minutes

Air Flow:

4 – 6 liters

Ground Resistance:

0.1 ohms maximum

WARRANTY

Pumps:

1 Year limited

Mattress:

1 year limited

Cover:

6 months limited
Alternating Pressure Recliner Mattress & Pump System
This unique alternating pressure recliner geri-chair air mattress system allows for patients who are at high risk for pressure sores to be placed in a variety of mobile devices. Patients are no longer confined to bed for the whole day due to the risks of sitting without proper pressure redistribution. Chair-Air™ alternating air recliner mattress systems can be integrated into a geriatric chair, recliner, or standard high-back wheelchair. Twenty bladders gently alternate, providing low interface pressures in addition to comfortably supporting the patient. The Chair-Air™ 9700GR alternating pressure recliner mattress system includes the 9701 alternating pump. Chair-Air™ meets California Technical Bulletin #117 for fire retardancy. An optional fire barrier is available to meet the most stringent fire safety requirements when requested.
(recliner not included)
Chair-Air™ AC/DC Model 9701 Alternating Pump

The portable Chair-Air™ AC/DC Pump allows your patient to be totally mobile. A rechargeable battery backup keeps this system working up to 6 hours per charge, based on the patient's weight.
For use with Chair-Air™,Geriatric Recliner Mattress &Chair-Air™ Wheelchair Cushion
| | |
| --- | --- |
| MODEL 9700GR | Chair-Air™ – Recliner  Geri-Chair Air Mattress & Pump System |
| Dimensions: | 21″ x 70″ x 3-1/2″ |
| Weight: | 10 lbs. |
| Air Cells: | 20 – 3.5″ sacs |
| Cover: | Low shear, zippered multi-stretch Vyvex-III™, moisture / vapor permeable top cover, non-skid bottom. Cover is anti-microbial and meets California Technical Bulletin #117 for fire retardancy. |
| | |
| --- | --- |
| MODEL 9702GR | Chair-Air™ – Recliner Geri-Chair Air Mattress Only |
| Dimensions: | 19″ x 68″ x 2-1/2″-3-1/2″ |
| Weight: | 10 lbs. |
| Air Cells: | 20 – 3.5″ sacs |
| Cover: | Low shear, zippered multi-stretch Vyvex-III™, moisture / vapor permeable top cover, non-skid bottom. Cover is anti-microbial and meets California Technical Bulletin #117 for fire retardancy. |
MODEL 9701

Chair-Air™ – Pump only For use with Recliner Geri-Chair Air Mattress

Dimensions:

14.5″L x 5″W x 12.5″H / 25cm x 25cm x 5.7cm

Weight:

1.6 lbs. / 1.0 kg. (battery and adapter included)

Power Source :

A/C 117V/60hz , D/C 12V amp/hr

Listings:

Cycle Time:

10, 15, 20 Minutes

Air Flow:

4 – 6 liters

Ground Resistance:

0.1 ohms maximum

WARRANTY

Pumps:

1 Year limited

Mattress:

1 year limited

Cover:

6 months limited