Improving Mental Health Care using a Blue Chip Static Air Overlay Mattress
Improving Mental Health Care using a Blue Chip Static Air Overlay Mattress
By: Karen Valencia Hamed MSN, AMB-RN, CWOCN, Nurse Care Manager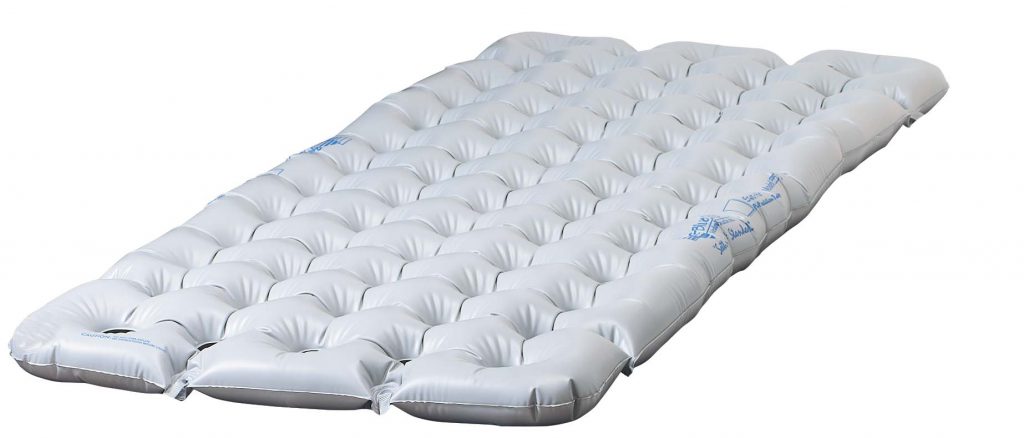 A Mental Health Acute Care inflatable static air overlay mattress
Patients in an Acute Mental Health unit have limited options among medical assistive devices. In this environment, limitations are in place to mitigate the risk of self-harm, as well as protection to other patients and staff from agitated behaviors. Because of these protective factors, standard inflatable overlay mattress cannot be used on an acute Mental Health unit due to small removable parts and corner straps that hold the mattress in place. Because of these risk concerns, a need for a functional, low-risk mattress, safe for the acute Mental Health inpatient setting was identified.
In our Medical Center, we have a 36-bed acute Mental Health unit. A standard inpatient room consists of stationary bedframes with a standard twin-size pressure-relieving foam mattress.  The patient population ranges from young adults to the elderly. There have been some complaints of the mattress being uncomfortable by those patients who were sleep-deprived, those with chronic pain such as arthritis, and patients with skin injuries from pressure injuries and traumatic wounds.
All people need to sleep. Sleep is imperative for life, it is a biological requirement (Smyth, 2020). Rest and sleep are a critical element in healing from an acute mental health episode.  Sleep hygiene is extremely important for those patients with a history of mental illness, because long episode without sleep is associated with cognitive difficulties, that can range from changes in a person's mood to psychotic episodes such as hallucinations (Plante, D March 2020). Bernecker, et al (2020) states that sleep insufficiency has a direct influence on a person's cognitive functioning.
After spending time searching for an inflatable static air overlay mattress, all options available were unacceptable for the acute inpatient Mental Health population. All the mattresses were manufactured with small removable parts and straps.  The search began to find a company that would develop an inflatable static air immiscible overlay mattress that was safe for the acute Mental Health population.  The following parameters were used as guidelines: the mattress must be single patient use, have no strings or small removable parts that could cause someone harm, have an adhesive bottom to stay on the bed, and it must be cost-efficient.  After contacting several companies, Blue Chip Medical Products, Inc. in New York agreed to develop a prototype that met the guidelines listed previously and to include the following design: fits a single bed, no straps, non-skid adhesive strips on the bottom of the mattress, weight limit of 300 lbs., hand inflated, latex-free, cleans easily, and provides comfort and pressure redistribution.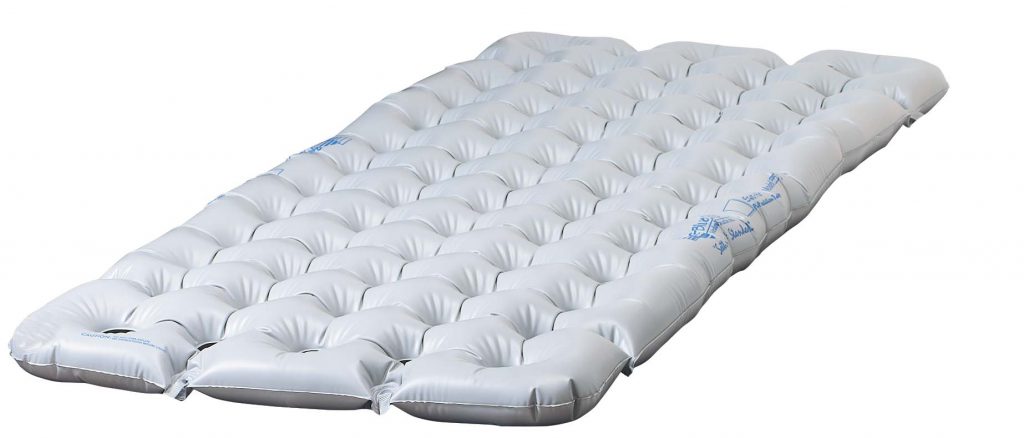 Blue Chip Medical products produced a prototype for approval. The mattress was inspected and approved by the Mental Health Service Line Chief, Chief Nurse of Mental Health, Clinical Nurse Leader, and the Nurse Manager. The Chief of Mental Health provided a risk assessment document. To gain approval for a facility for trial, a request was submitted to the facility's Clinical Products Review Committee (CPRC).  The CPRC approved the Blue-Chip inflatable mattress for a ten-patient trial over three months.
Criteria was developed on who would receive the Blue-Chip Overlay Mattress.  Upon admission, if a Veteran presented with two or more of the following issues they were offered a Blue Chip Overlay Mattress: chronic pain, bipolar disorder, psychosis, sleep deprivation, a stage 1 or 2 uncomplicated pressure injury, or had broken skin due to trauma or burns.
The trial dates were set for December 1, 2020 to March 1, 2021. Acute Mental Health nursing staff was educated on the product and the criteria for those who can receive a mattress for the trial.  After three months, seven participants had successfully completed the trial, a lower number than anticipated due COVID-19 virus concerns.
To evaluate the overlay mattress for comfort and pressure relief, a Likert scale evaluation tool was developed.  Each patient was asked to evaluate their satisfaction with the Blue-Chip Overlay Mattress.  All patient responses were positive. Not all the participants provided additional comments, but the nursing staff noted that after putting the Blue-Chip Overlay Mattress on the bed, Patient X rested well through the night and was less restless and agitated in the morning. One patient was transferred into acute Mental Health from a medical-surgical unit with a healing stage 2 pressure injury. The patient said that he was able to rest better with the overlay mattress and the wound did not increase in size during his stay.
The nurses were also asked to evaluate mattress placement and care. There were no negative comments in their evaluations.
When delivering the outcomes of the trial to the CPRC members, it was a unanimous vote to approve this product as a safe option in care for our Mental Health Service Line.  Currently, this product can be used in our acute Mental Health unit, Substance Abuse unit, and Post-Traumatic Stress unit.
To provide consistency in the mattress air volume and pressure, the staff will check the overlay mattress each shift. The mattress is checked by placing a hand between the air mattress and the foam mattress, at the hip area, to make sure there is enough volume of air pressure to float the patient's body off the foam mattress. This ensures an allowance for immersion into the mattress to distribute their weight throughout the surface area, reducing pressure over bony prominences.
The following changes were made to the nursing documentation template:
Is patient on Blue Chip Overlay Mattress     _____ Yes     _______No
Air pressure checked in Blue Chip Overlay Mattress  __________Yes     ____________No
For Mental Health care, this product provides a fantastic opportunity to deliver quality care on mental health units that promotes comfort, aids in healing, and prevents pressure injuries.
If you would like this product for your facility, please contact:
Blue Chip Medical Products, Inc.
7-11 Suffern Place
Suffern, NY  10901
1-800-795-6115
www.bluechipmedical.com
References
Bernecker, Katharina, job, Veronika. Too exhausted to go to bed: Implicit theories about willpower and stress predict bedtime procrastination. British Journal of Psychology, Vol 111 (1), Feb, 2020 pp.126-147. Publisher: Wiley-Blackwell Publishing Ltd.; [Journal Article], Database: APA
Plante, David. The Importance of Sleep Phenotypes in Bipolar Disorders. JAMA Psychiatry. March 2020, 77,3, p.235-236
Smyth, Aisling; Australian Nursing & Midwifery Journal, Oct-Dec 2020;27 (1); 42-42. ½ p.
Disclaimer:
The views of this article do not necessarily represent those of the Salem Veteran Affairs Hospital or the Government, but those of the individual author.